The mic+ sensor family
embedded in its M30 housing design covers a measuring range from 30 mm to 8 m with its five detection ranges. Depending on the detection range, the internal resolution for distance measurement is 0.025 or 2.4 mm. All sensors are equipped with integrated temperature compensation.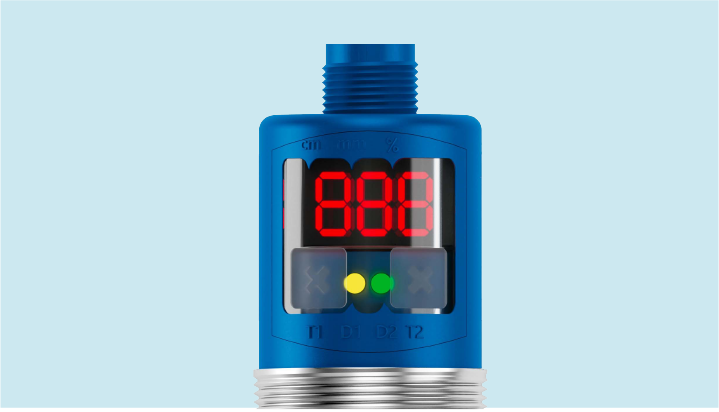 TouchControl with LED Display
Four different output levels
are available for all five detection ranges:
| | |
| --- | --- |
| | 1 switching output, optionally in pnp, npn or Push-Pull circuitry |
| | 2 switching outputs, optionally in pnp or npn circuitry |
| | 1 analogue output 4–20 mA and 0–10 V |
| | 1 analogue output with an additional pnp switching output |
With TouchControl
all sensor settings are made. The easily readable LED display constantly shows the current distance value and automatically alternates between the millimetre and centimetre indication. By operating the two keys beneath the LED display, the parameterisation is called up and the self-explanatory menu structure is run through.
The detection points of the switching outputs and the window limits for the analogue output can be pre-set numerically via the LED display without the object to be detected being positioned within the detection range. Therefore, it is possible to completely set the sensor without the help of auxiliary reflectors, even outside the actual application.
Two three-colour LEDs
always indicate the current status of the switching outputs and/or the analogue output.
Further additional function (add-ons)
are available as an option within the TouchControl menu structure. Measured distances can be smoothed with different measurement filters, e.g., be stressed by means of the ten level software filter, from F00 (direct measuring value output without filtration) to F09 (extremely strong filtration and measuring value attenuation). A high measuring-value attenuation is useful for filling-level measuring operations with wave motions or in situations where parts may sporadically fly between the sensor and the actual measuring surface. The default filter value is F01. Thus, the sensors are preset for rapid counting and control operations. As further add-ons, the default settings of the switching hysteresis of the switching outputs can be changed if required. The LED display can be permanently switched off or dimmed.